The International Disaster Recovery Association
Achievement Award
For Achievement and Service in Assessment, Planning, Avoidance, Mitigation, Recovery, Continuation, Restoration, Writing, Education, and General Advancement of
DISASTER RECOVERY
CONTINGENCY PLANNING & BUSINESS CONTINUATION USING
TELECOMMUNICATIONS

Phone (508) 845-6000 or write:
IDRA Awards, c/o BWT Associates, PO# 4515, Shrewsbury, MA 01545, USA

The award(s) process is open-ended. The nominee may be a person, group, company, educational institution, vendor, government entity, military unit, task force or other category.
Traditionally there has been one nominee selected per year. However, should there be two or more categories, (for example a researcher and perhaps someone who has served on professional boards for many years), more than one award may be presented.
Click here for information on nominations
Click for Nomination Form
Microsoft Word Format

The 2003 IDRA Achievement Award Winner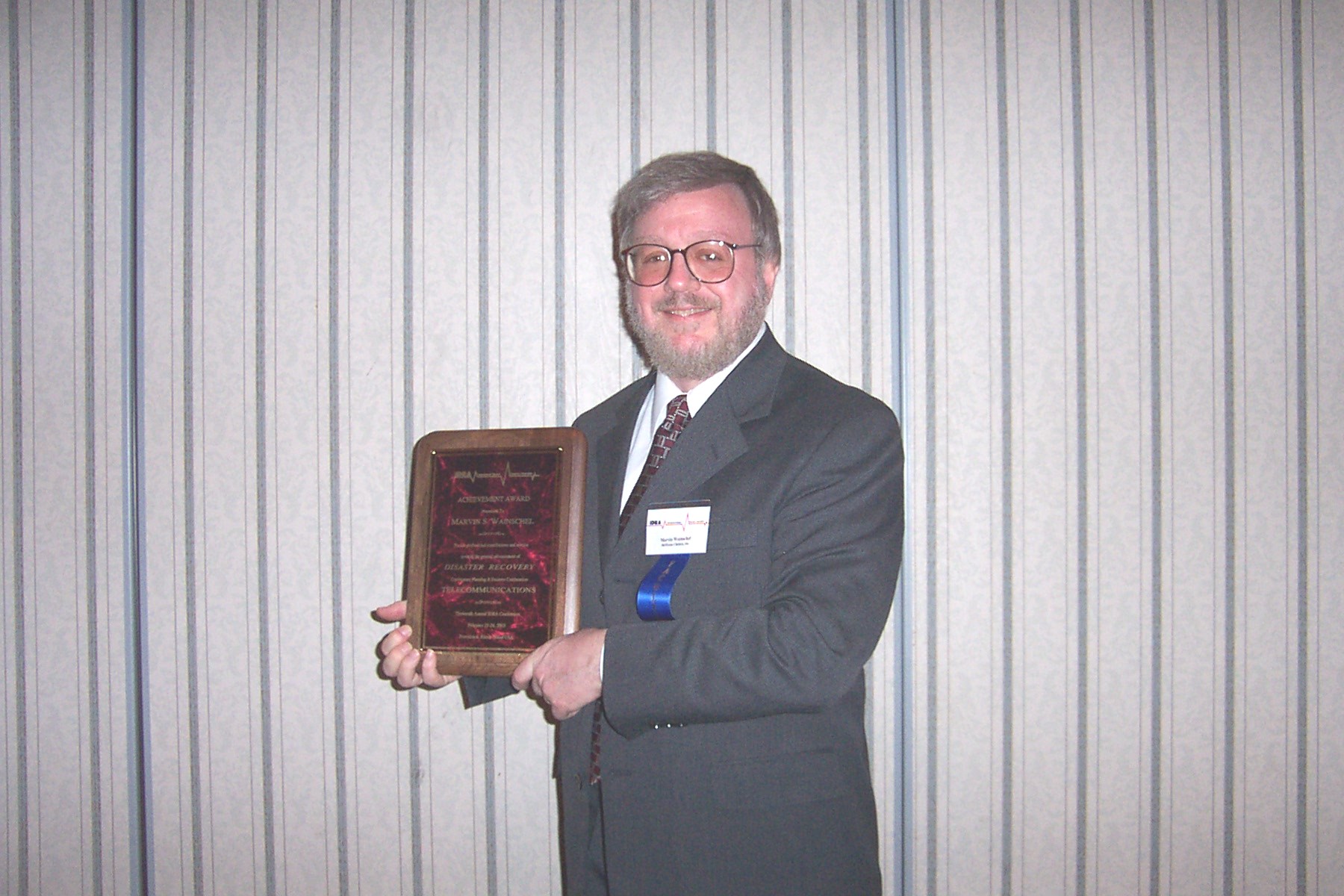 Marvin S. Wainschel
Marvin Wainschel is one of the foremost authorities in Contingency Planning. Along with Joseph Levatino, he published "Knowledge at Risk" in 1992, a classic reference for protecting information resources and the related required telecommunications infrastructure. In the book, the basics of telecommunications networks and how to insure reliability of communications during extraordinary events is described in terms understandable to technical and managerial people. Marv is always available to share information and his time to support professional groups. His expertise as a world-class educator and consultant has earned him recognition throughout the contingency planning profession.
************** Please scroll down for past recipients ************
The 2002 IDRA Achievement Award winner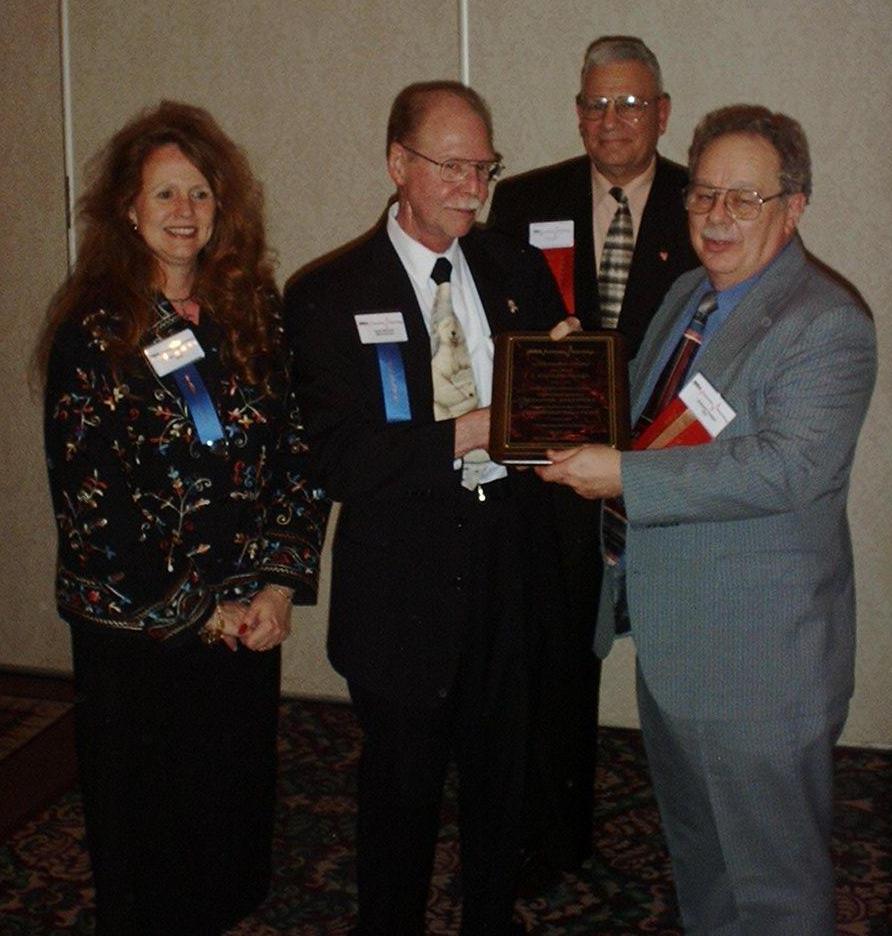 David McDaniel
Pictured above, second from left, is David McDaniel, Chief Scientist for BMS Catastrophe Special Technologies, receiving his Achievement Award from Benjamin Tartaglia, Executive Director, IDRA. Also pictured are past award recipients, Mary Boyd of Intrado and Patrick DeChirico, President of DeChirico & Associates. (Photo by Rod Morgan).
DAVID MC DANIEL is Chief Scientist for BMS Catastrophe Special Technologies Division. He is responsible for post loss analysis, recommendations for recovery procedures, protocols and remediation. He has been personally involved in most major disasters in the U.S. in the last ten years. He often acts as a consultant to major insurance companies on the effects of fire, water, fungi, and acidic contaminants on electronic equipment, documents, industrial equipment, and other contents. His background includes 11 years as a member of technical staff at Bell Labs Digital Transmission Division, 9 years as Engineering Manager for SIE Geosource and 3 years as Research Director of PCES. He managed and contributed to a wide range of electronic developments from communications to image processing. He has several patents.
David has been active in IDRA for many years and has presented at the annual conference several times. He is always willing to assist others and share his wealth of knowledge. David epitomizes a true professional.
He is a current member of ASTM Committee E05 on Fire Sciences, member of the IEEE Computer Society, Faculty Member Zurich American Risk Engineering Training, and Research Board member for the Public and Private Business Inc. He maintains close ties with industry laboratories working on corrosivity and other non-thermal damage analysis and restoration techniques. He has lectured widely for Universities and for International Conferences. Articles by Mr. Mc Daniel have appeared in the Disaster Recovery Journal, IEEE Spectrum, Survive The Business Continuity Magazine, The Bell System Journal, ACUTA Magazine, and Communications News. He authored the recovery planning/restoration chapter for a new Mc Graw – Hill book, Facility Design and Management Handbook introduced two months ago.
The 2001 Winner
Paul F. Kirvan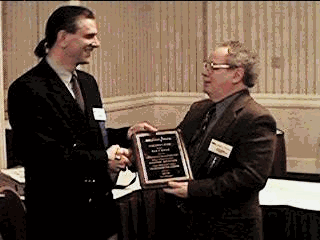 Paul F. Kirvan, (left), Senior Consultant for Fortune Communications, Inc., receives the 2001 Telecommunications Contingency Planning Achievement Award from Benjamin W. Tartaglia, Executive Director, IDRA, at the l 2001 conference.
Benjamin W. Tartaglia, Executive Director for the International Disaster Recovery Association, (IDRA), announces the 2001 Achievement Award for Telecommunications Disaster Recovery Planning was presented to Paul F. Kirvan at the IDRA's annual conference held April 9-10, 2001 in Providence R.I., USA.
Tartaglia said: "This award is presented to those who have (a) worked in the telecommunications contingency planning arena, (b) made a significant contribution to the field, and (c) helped achieve the objectives of IDRA. Paul Kirvan is a true telecommunications professional who manifests the IDRA Achievement Award recipient. Paul has been involved with telecommunications contingency planning for over ten years. He is certified as a Fellow of the Business Continuity Institute (FBCI). Paul developed one of the first telecom disaster recovery planning software packages and has been an active supporter of IDRA ever since he spoke at the second annual conference in 1991."
The 2000 winner of the IDRA Achievement award
The winner of the 2000 IDRA Achievement Award is Dexada D. Jorgensen (center). She is Manager of Business Continuity Planning for Telus, (formerly BC Tel of Canada). She is pictured with Benjamin Tartaglia, Executive Director of IDRA, on her right, and Patrick DeChirico, of DeChirico and Associates, the 1999 winner.
Tartaglia said, "Dexada's accomplishments truly are remarkable. She is responsible for the Business Continuity Program at Telus. In addition to her 19 years in Telecommunications and Business Continuity at Telus, she worked with the United Nations Telecommunications Union. She spent 18 months as a member of the Y2K Task Force, giving presentations and workshops to international telecom companies around the globe. She presented to the International Emergency Agency (IEA) in Prague in October 1999. She has presented and moderated panels at IDRA for several years and is a Professional Member of IDRA". Her award was presented at the Annual IDRA Awards Dinner, sponsored by Motorola.
The 1999 Achievement Award went to
Patrick (Pat) C. DeChirico
President, DeChirico & Associates
The 1999 award recipient was Patrick DeChirico, USMC (Ret.). Pat has been a member of IDRA since it was founded in 1989. He has played a major role in the administration of the conferences for many years. Pat's experience in contingency planning spans more years than he wants to admit. He has done everything from training police officers to writing military disaster recovery plans for tsunamis. His areas of expertise includes telecommunications, security, terrorism and counter-intel. He teaches related college courses, seminars and workshops.